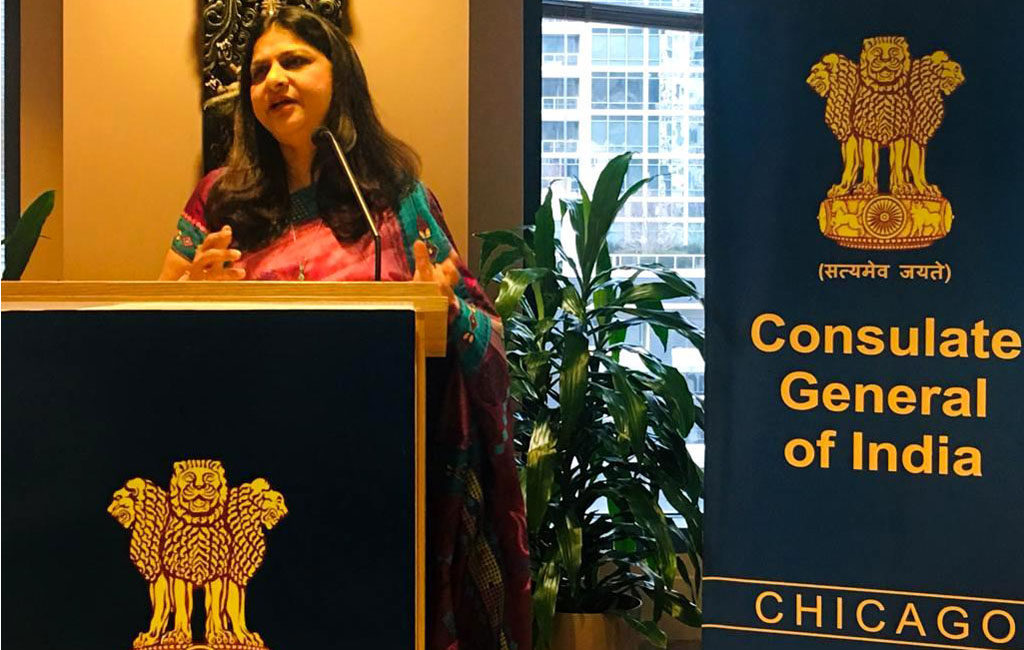 Hanukkah-Diwali Celebration by the Jewish and Hindu Communities in Chicago
The Jewish and Hindu Communities united for the first time for Hanukkah-Diwali celebration in Chicago on Sunday, Dec 9th, 2018.. About 40 members of the Hindu and Jewish communities came together under one roof at to celebrate Diwali and Hanukkah. The event was hosted by the Consul General of India, jointly organized by the Indian American Cultural Association (IACA), Chicago and American Jewish Committee (AGC) to celebrate Hanukkah and Diwali festival together.
Among the prominent community leaders present during the ceremony were Dr. Bharat Barai, chairman of the Global Indian Jewish Relations Institute, Nissim B. Reuben, Assistant Director, Asia Pacific Institute, Mickey Straub, the Mayor of Burr Ridge, Vinita Gulabani, President, IACA, Sohan Joshi and Shanu Sinha, Directors, IACA,  Amy Stoken, regional director, AGC, Ariella Rada, Consul General of Israel to the Midwest and other community leaders of Hindu and Jewish communities.
Vinita Gulabani, President, IACA added to the speech about the great initiative by the Consul-General Mrs. Bhushan to celebrate both festivities together. Both the festivals have different historical contexts but signify the same essence.
Indian consulate in Chicago celebrates Pravasi Bharatiya Divas and Vishwa Hindi Diwas
The 15th Pravasi Bharatiya Divas was celebrated by the Consulate General of India Chicago at its premises on Wednesday Jan 9, 2019.
Consul General Neeta Bhushan delivered the keynote address welcoming and thanking the community for their presence in celebrating the event at the consulate. The event was well attended by community members, directors of Indian-American Cultural Association (IACA), and Consulate staff.
The Vishwa Hindi Diwas was also celebrated after the PBD event, several keynote speakers spoke  about their efforts at promoting Hindi languages in Chicago land area. Rakesh Malhotra; president & CEO of Global Natural Resources Inc., and Shanu Sinha, director of Indian American Cultural Association(IACA) recited a poem in Hindi. Several kids performed songs and recited poems in Hindi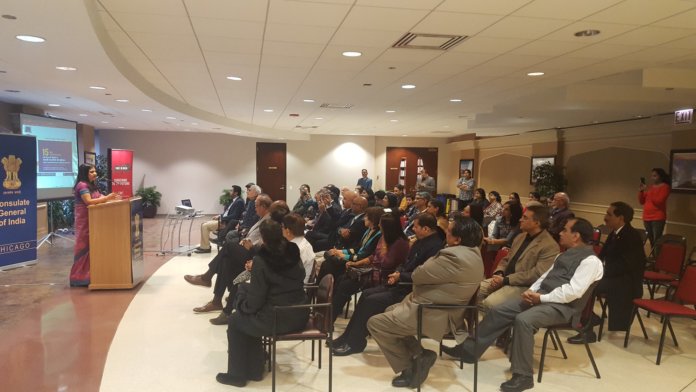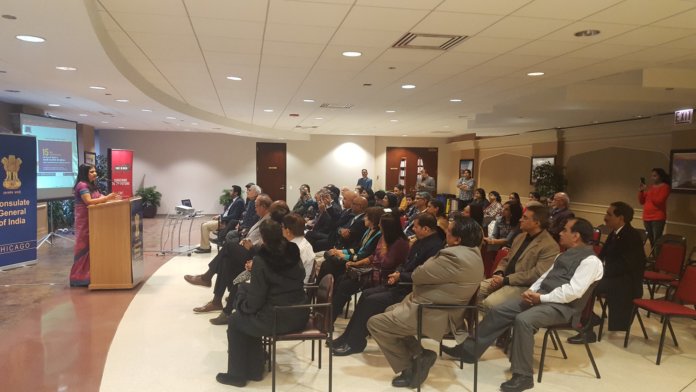 Celebration of the 70th Republic Day of India at the Consulate, Chicago